I was looking for new ways to connect with my mother.
While some things are the same since she was diagnosed with Alzheimer's disease two years ago – she loves dessert and has a Lucille Ball type sense of humor – others are different. Now, at 89, she's confused much of the time and often seems restless, in search of something to do but not sure what that something should be.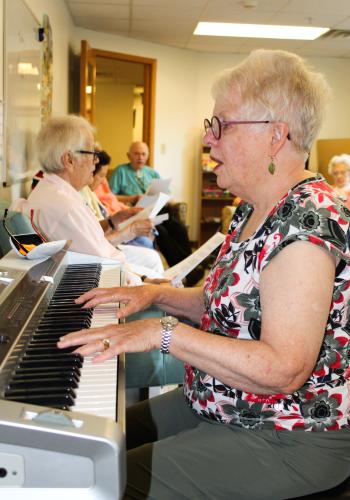 My mother is now in memory care at Oakwood Village Prairie Ridge on the east side of Madison. My dad is in independent living there, and comes over every day to see her and have lunch.
When I visit, it's often a quiet place. I think people with dementia are aware of what's going on, but they often aren't sure how to communicate back to the world.
My perspective changed one day when I visited during a music event in the chapel.
My mom, and others, were up and away from their walkers and wheelchairs, singing, dancing, swaying and smiling.
How could this be? I had a feeling that if people who were barely verbal or immobile a few minutes before could transform into this joyful bunch, anything would be possible.
I wanted to understand this, and be around it more.
Right now, 5.8 million Americans have Alzheimer's, according to the national Alzheimer's Association. That number is projected to grow to 13.8 million by 2050, if no cure or significant medical breakthrough is found.
I talked to Melissa Cole, who is a music therapist at Oakwood, and Christa Iverson, the community's life enrichment coordinator. They invited me to other group events, a drum circle, and a group sing-along that takes place every week.
At the drum circle my mother sang every word of "You Are My Sunshine." She told me she remembered her mother and father playing that song.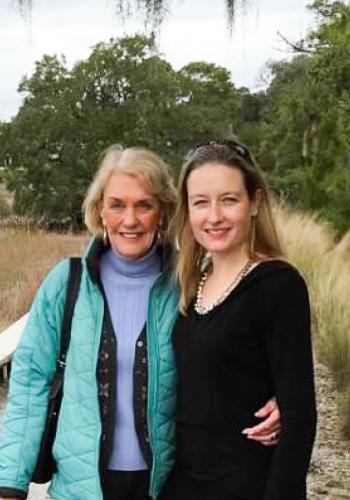 My mother also loved singing in church, and she would always tell me: "Singing is twice praying."
At the group sing-a-long, the residents arrived, parked their walkers and sat in a circle in the memory care activities room. About half had memory loss and half were independent living residents who help lead the others in song.
Research on music therapy has shown it creates sensory stimulation in people with Alzheimer's and other dementia, and can be a nonmedical treatment option for anxiety and stress.
Mary Marohl, 95, loves to sing with the group and helps keep them organized and inspired.
Each singer had a copy of the lyrics for the more than 20 short versions of songs. In unison, the (mostly) women and some men sang "Moon River," "Side By Side," "Chasing Rainbows," and twice, because someone asked for it to be repeated, "Edelweiss."
It doesn't matter if someone hits a wrong note. It matters that they feel the music and have fun. These are American classics that are beautiful and familiar from their lives. As Marohl said: It doesn't matter if someone hits a wrong note. It matters that they feel the music and have fun.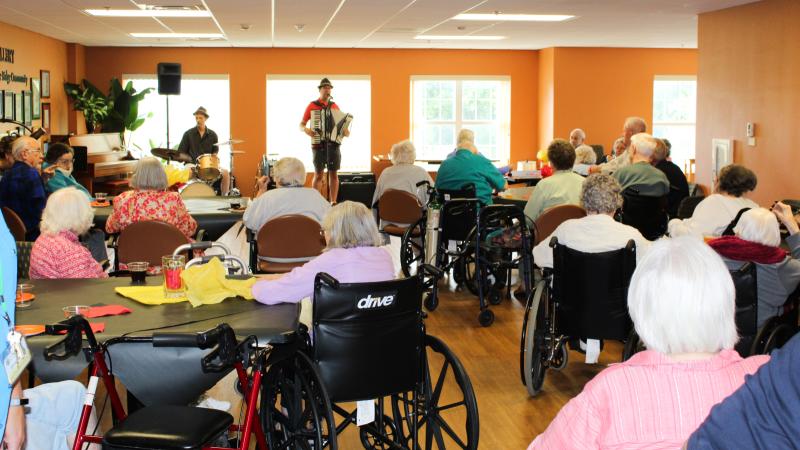 It doesn't matter if someone hits a wrong note. It matters that they feel the music and have fun.

If I did not know who was in memory care and who was not, I would not have been able to tell. Everyone sang most every word. Some of it must have come from memory.
One woman in a wheelchair, eyes closed, was not singing. But then I noticed she was smiling and her foot was gently tapping.
Music was waking up something within each of them. It is a universal language, it is something that even as we grow older and change, does not leave us entirely.
The arts, whether it is music, dance, poetry, painting or theater, stir the greatest emotion in us for the longest periods of our lives. If we open ourselves to the sound and beauty, this is how we will always connect with each other.
---
Resources About Memory, Alzheimer's Disease And Music
---